Khan al Ahmar fact sheet
Compiled by the Rebuilding Alliance team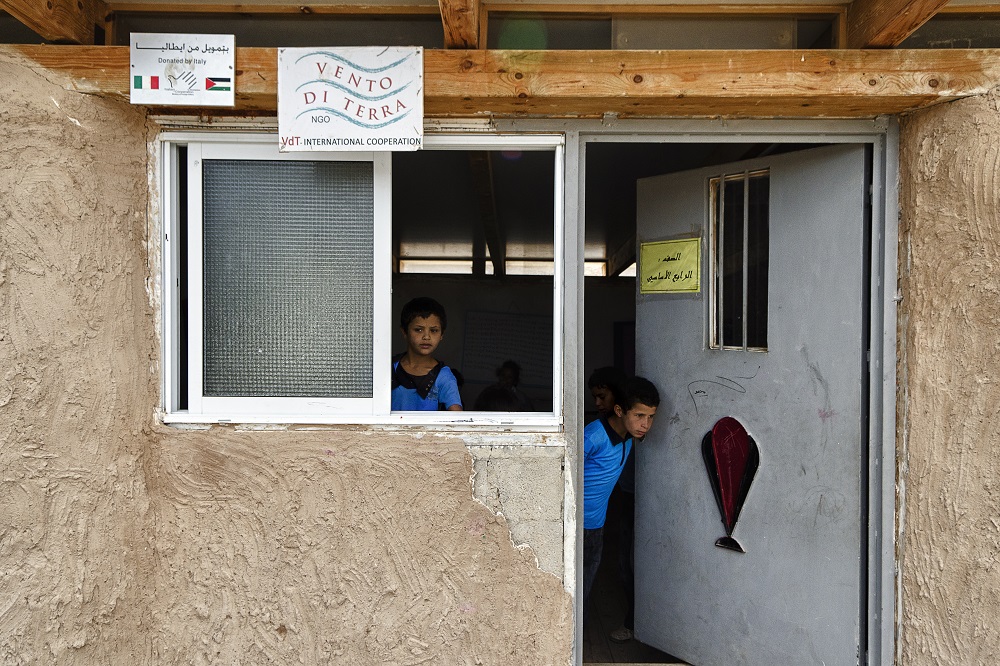 Executive Summary
The West Bank Palestinian village of Khan al Ahmar is at imminent risk of demolition. The village is located near Jerusalem, between the Israeli settlement of Ma'ale Adumim and one of its elite suburbs, Kfar Adumim. It is one of several Palestinian communities facing forced relocation because it falls within the "E1" plan that would link the Israeli settlements with West Jerusalem (cutting East Jerusalem off from the rest of the West Bank). All the homes and structures in Khan al Ahmar were issued demolition orders on March 5th, 2017, requiring them to demolish their own homes, school, mosque, clinic, and barns within seven days. Of grave concern is that when Adv. Shlomo Lecker, the attorney for Khan Al Ahmar, filed a petition to appeal, the judge on duty failed to issue an informal preliminary injunction against demolition until March 13th. Under the preliminary injunction, Khan al Ahmar is protected until March 30th at which point the State of Israel will announce its official position on the village.

Senators and Representatives are being asked by constituents to make two calls on their behalf:
1. Please contact the U.S. State Department, using your usual channels, to ask that Consul General Donald Blome visit Khan Al Amar to demonstrate the depth of U.S. concern.
2. Please the Israeli Embassy to ask that the judge on duty, Justice Sohlberg, recuse himself due to conflict of interest. Also ask that an official injunction against demolition be issued (the one issued on March 13th is informal and inadequate), and that Khan al Ahmar's master plan be reviewed and approved.
Legal details of the Khan al Ahmar case
Each and every structure in the village of Khan al Ahmar was placed under demolition orders on March 5th, 2017. 44 separate orders were issued to the village's 160 structures — including their school, clinic, mosque, and all the homes — escalating the stop-work orders issued a week prior.

The entire village had been placed under demolition orders previously, but had been granted an injunction against demolition by the Israeli High Court pending a plan by the State of Israel as to where these villagers would be moved. The new demolition orders issued on March 5th are an attempt to circumvent the injunction.

The village was given seven days to demolish their own community, brick-by-brick, including their homes, school, mosque, and medical clinic.
On March 2nd, Adv. Shlomo Lecker, the Israeli lawyer representing Khan Al Ahmar, filed an emergency petition requesting an injunction against demolition from the High Court of Israel.

In a breach of procedure, Justice Noam Sohlberg, the judge on duty at Israel's High Court, did not reply for almost two weeks. As a result of Justice Sohlberg's failure to issue the requested injunction in a timely manner, Khan al Ahmar was at risk of demolition before their appeal is heard by Israel's High Court.

Justice Sohlberg is himself an Israeli settler, and ought to recuse himself for conflict of interest.

On March 13th, a preliminary injunction against demolition was issued to Khan al Ahmar. This informal order protects the village at least until March 30th, when the State will give its official position on the village.
The Israeli government proposed moving the residents of Khan al Ahmar to Nuwei'ma, near Jericho. They rejected this plan, which would place them in close proximity with an Israeli settlement, as well as an IDF camp, and provide no land for their sheep and goats.
The reason demolition orders are issued to Khan al Ahmar is that they do not have ICA-issued building permits for their structures. When they applied for building permits they were told that permits cannot be issued because the village does not have a master zoning plan. When they filed a professionally-developed master plan in 2014, it was rejected due to questions about land ownership. About a month later, the village submitted five alternative master plans. These have not yet been reviewed.
The community's existence poses an obstacle to the expansion and annexation of the Israeli settlement of Ma'ale Adumim and its suburbs, which is the underlying reason its master plan was not approved.
On April 25th, 2018, the Israeli High Court held a hearing on Khan al Ahmar's case. They heard statements from lawyers representing the Israeli State, the Bedouin villagers of Khan al Ahmar, the settlers of nearby Kfar Adumim, and a settler group who was present in solidarity with the villagers and argued against their forced relocation to Jabal West.
The villagers of Khan al Ahmar have been presented with the option of relocating to Jabal West, but this new location is not suitable for their pastoral and agricultural lifestyle. The Court asked whether the State would consider offering a different alternative, but the State refused. The lawyer for Khan al Ahmar argued that the villagers have submitted multiple community-driven plans in the past, but all were rejected by the Israeli Civil Administration.
The Court postponed its decision until May 2nd.
About Khan al Ahmar
Khan al Ahmar is a Palestinian Bedouin village, inhabited by the Jahalin tribe, located in Area C of the West Bank, between the Israeli settlement of Ma'ale Adumim and one of its elite suburbs, Kfar Adumim. This places it within the E1 plan that would cut off Palestinian access to Jerusalem.
The residents of Khan al Ahmar were forcibly relocated from the village of Tel Arad in Israel's Negev Desert in 1951. They leased the land that they now live on from a private Palestinian landowner in Anata until it was expropriated and declared State land in 1975, zoned for the establishment of an industrial zone and later for the settlement of Ma'ale Adumim.
The village's extraordinary elementary school was built in 2009 by an Italian organization, Venti di Terra. It was constructed using tires and mud. It currently serves 174 students from Khan al Ahmar and the neighboring area. Construction of the local school made education accessible for many children, especially girls, as parents previously had felt it too dangerous to allow their children to cross the highway on foot to reach distant schools.
About Area C and the Master Planning Process
The Olso Accords split the West Bank into Areas A, B, and C. Area C is temporarily administered by the Israeli Civil Administration (the bureaucratic arm of Israeli Army) but, per the Oslo Accords, the administration of land was to have transferred back to Palestinian control within 18 months after the formation of the Palestinian Legislative Council.
Most of Area C is zoned for Israeli use, and over 400,000 Israelis live in about 130 separate settlements, although this is against international laws of military occupation.
Palestinian communities' master plans must be approved by the Israeli Civil Administration, or they are at risk of demolition. 108 technically-sound plans have been professionally developed and submitted to the ICA since 2011, but only three have been approved.
Plans are rejected for spurious reasons, like the assertion that infrastructure will be impossible to implement. This is baseless, as Israeli settlements enjoy well-developed modern infrastructure.
Serious Escalation in the Demolition of Palestinian Homes
Israel has aggressively escalated the demolition of Palestinian homes, barns, and wells. According to the U.N. Office of Coordination for Humanitarian Affairs, there has been over a 50% increase in the rate of demolitions in January 2017 (140 structures demolished) compared with January 2016 (91 structures). There were more demolitions in 2016 than any year since 1967.
There is a 12 Km. swath of land between the settlement of Ma'ale Adumim and Jerusalem deemed East 1, or E1, by the Israeli government. The slated annexation of E1 makes the two-state solution next to impossible as its annexation would cut East Jerusalem off from the rest of the West Bank and thereby preclude the possibility of a future contiguous Palestinian state.
E1 is mostly inhabited by Bedouin, who make their living by herding livestock.
Relevant legislation
Annexation: According to the Times of Israel, at the request of President Trump's administration, a bill to unilaterally annex Ma'ale Adumim and the surrounding area has been postponed — but Khan al Ahmar and the many other villages within that annexation footprint still face the very real threat of demolition.
Emboldened by the new US administration, the Israeli settler movement pushed through a radical new law on February 6, 2017 now referred to as the 'Regulation Law'. The Knesset passed legislation that allows for the seizure of private Palestinian property, in an effort to retroactively legalize settlements built on stolen land.

The question of jurisdiction is key here. The reason this law is so dangerous is that by taking this action, the Knesset has asserted control over land for which they have no jurisdiction. By international law, only Israel's military can administer occupied land. When the Knesset passed this bill, they asserted de facto annexation.
Many express concern that because this law directly violates the Fourth Geneva Convention, it will be grounds for a case against Israel in The Hague.
What we are asking staffers to do
So far, Belgium, Brazil, Canada, Denmark, EU, Finland, France, Germany, Greece, Ireland, Italy, Malta, Netherlands, Norway, Spain, Sweden, Switzerland, Turkey, UK and UN (OCHA, OHCHR, UNRWA and UNSCO) have all sent their top representatives – Consuls General and Representatives – to visit Khan al Ahmar in a show of solidarity.
Members of Congress are uniquely able to get the attention of the Government of Israel. We've found that when Senate and House offices call the Israeli Embassy and the U.S. State Department, they keep villages standing.
This was true for Al Aqaba village, where Rebuilding Alliance helped build their kindergarten, and also for Susiya and Umm Al Kheir. We now ask your help to keep Khan al Ahmar standing too.
Please make two calls, to the Israeli Embassy and the State Department:
Please contact the State Department through your usual channels.
Urge U.S. Consul General Donald Blome to visit Khan Al Ahmar school this week and to do all he can to prevent demolition. Please note: Diplomats from the U.N., the E.U. and many European governments, along with Palestinian officials, visited and are expressing concern to their Israeli counterparts. Staff from the U.S. Consulate visited Khan Al Ahmar on March 5th.
Please call the Israeli Embassy to say you care about peace, and you care about the children of Khan al Ahmar. Please express your concern about the destruction of their school, and their families' homes and livelihoods. Please say that the demolition of a school does not serve the cause of peace.
Ask that Justice Sohlberg recuse himself for conflict of interest from further deliberations on this case and all future cases involving villages in Area C.
Ask the Government of Israel to instead approve the master plan of the village of Khan al Ahmar and recognize the human right of Palestinians in Area C — including the Bedouin— to live, build, earn a living and go to school in their communities.
References: